VANCOUVER SEPARATED BIKE LANES
Separated bicycle lanes are dedicated bike lanes where concrete medians and planters, bicycle parking corrals, or vehicle parking lanes, act as dividers between vehicle traffic and cyclists.
This increases feelings of safety and comfort, which makes cycling an attractive commuting option for those who are not used to riding their bikes regularly.
When pedestrians know that cyclists won't be using the sidewalks, pedestrians experience greater feelings of comfort when walking.
HOW TO FIND A STOLEN BIKE
VanCityBikeWatch provides a visual representation of the Lower Mainland's bike scene by aggregating reports from the public and volunteers. These reports enable us to provide geo-location of bike shops, stolen bikes and road hazards.
BIKE LOCKERS PROVIDED BY TRANSLINK
TransLink provides bike lockers at many SkyTrain stations and Park and Ride locations for monthly rental. Contact the supplier directly for more information, or to rent a locker.
For more info and registration visit the City of Vancouver website.
VANCOUVER CYCLING MAPS
Before you start pedaling, plan your trip by exploring TransLink online cycling maps and route planning tool.
Click Translink Maps
The Cycling Metro Vancouver is a great resource for planning your route to work, school, shopping, or simply to explore.
Click Route planner
BIKES ON TRANSIT
You can take your bike almost everywhere with you: on the bus, SkyTrain, SeaBus and West Coast Express. So whether you're commuting to work, or just want to cycle around Stanley Park and then bus it back home, transit can help you, and your bike, go further. for more information go to TransLink Rider Guide.
SIGHT SEEING VANCOUVER WITH E-SCOOTER
If you're planning a trip to Vancouver, one of the best ways to explore the city is on an e-scooter. Vancouver is a beautiful city with lots of scenic areas, and an e-scooter can help you see it all in a fun and eco-friendly way. Here are some tips to help you make the most of your e-scooter rental in Vancouver.


Choose a reputable rental company Before you rent an e-scooter, make sure you choose a reputable rental company. Look for reviews online, and ask locals for recommendations. A good rental company will have well-maintained scooters and will provide you with all the necessary safety equipment, such as helmets.

Plan your route Vancouver has a lot of great places to see, so it's a good idea to plan your route before you head out on your e-scooter. Some of the must-see spots include Stanley Park, Granville Island, and the Vancouver Seawall. You can also use your e-scooter to explore the city's neighborhoods, such as Gastown and Yaletown.

Follow the rules of the road When you're riding an e-scooter in Vancouver, you'll need to follow the rules of the road. This includes wearing a helmet, using bike lanes where available, and obeying traffic signals. You should also be aware of pedestrians and give them the right of way.

Be aware of the weather Vancouver is known for its rainy weather, so it's a good idea to check the forecast before you head out on your e-scooter. If it's raining or there's a chance of rain, make sure you wear appropriate clothing and bring a rain jacket. If the weather is particularly bad, you may want to consider postponing your e-scooter adventure.

Take breaks Finally, don't forget to take breaks during your e-scooter adventure. Vancouver has plenty of great cafes and restaurants where you can take a break and grab a bite to eat. You can also stop and take in the scenic views or explore a new neighborhood on foot.
In summary, renting an e-scooter is a great way to explore Vancouver.  
We have a good fleet of E-scooter to rent and see Vancouver's beauties.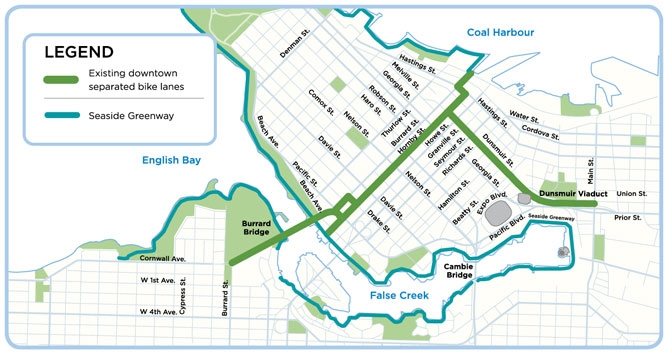 CYCLE SAFETY & ROAD RULES
Always come to a full stop at stop signs. Not stopping is illegal under BC's Motor Vehicle Act, and you can be fined $167. Watch the above video to learn more

Never assume that another cyclist, driver, or pedestrian sees you. Make eye contact with other road users

Take care when cycling past parked cars to leave enough space for drivers and passengers to open car doors

Cycle in traffic safely and predictably. Signal before turning, and learn the skills needed to control your bike

Yield to pedestrians crossing the street, and to buses when they are leaving a stop

Do not ride on sidewalks or crosswalks unless signs posted allow you to. Walk your bicycle on a sidewalk or a crosswalk

Maintain your bike in good working order. Equip it with a warning bell and use front and rear lights on your bicycle after dark, as required by law

Helmets must be worn according to Provincial Law, and safety vests or reflective clothing are recommended. Do not wear headphones that cover both ears

Take extra care when it's wet because it will take longer for your brakes to grip and stop your bike

Check out Bike Sense, a comprehensive BC guide to operating a bike in traffic.